During conflict or migration, the most vulnerable members of affected populations, especially women and children face increased risk of trafficking, exploitation, deteriorating health, trauma and stress. Our objective is to respond as swiftly as possible by identifying women and children at risk or victims of exploitation and secure their protection and safety.We aim to protect and preserve the right to life, to not suffer torture or discrimination, to ensure respect for one's human dignity and to the preservation of one's family.
Protection is also about the creation of an enabling environment so that these and other rights have a reasonable chance of being enjoyed, pending a lasting solution to the problems at issue.
SHELTERS FOR UNACCOMPANIED CHILDREN
Greece has been a major passage into Europe for a large number of children a lot of which are stranded unaccompanied or separated in Greece. We at Faros have responded by setting up and operating shelters for unaccompanied children in order to provide them with a safe and supportive environment and enable their school and cultural integration.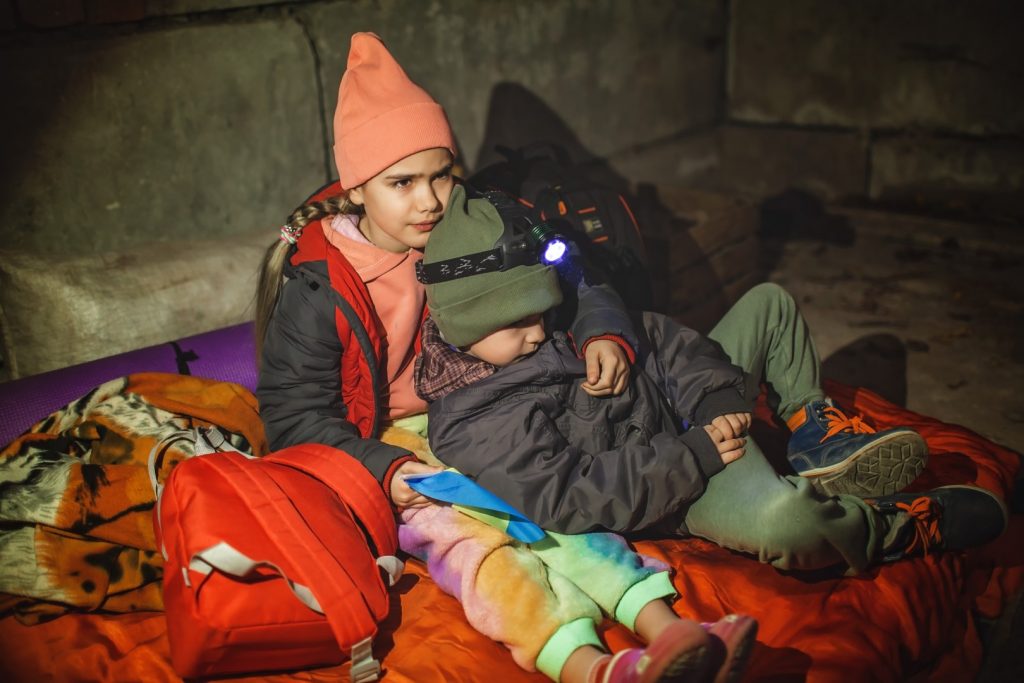 The Russian attack on Ukraine remains one of the major humanitarian crises on the globe since its beginning and the second largest since World War II. People fled to neighboring countries to find refuge. Poland received the majority of the Ukrainian refugees and is struggling to respond to the imminent needs of the people of Ukraine.
Our experience from the refugee crisis in Greece has shown that the humanitarian after-effects of war remain for years to come. Reception countries struggle to cover the needs of refugees in emergency situations and for years after.
Faros Elpidas has been present since the beginning of the war and has monitored closely the needs of refugees in Poland and other reception countries. As the war unfolded, we identified the gaps and the imminent needs of the refugees. We shaped our response to address the emergency needs of refugees. Check out  what our sister organization Faros Elpidas Foundation does for Ukrainian refugees in Poland.

SOCIAL SUPERMARKET
Since 2017 We have been supporting 1000+ families per month In cooperation with 7 municipalities in Attica, Elefsina, Moshato, Tavros, Markopoulo, Vrilissia, Artemida and Kifissia. We provide necessary supplies such as food items, personal hygiene items, cleaning supplies, clothing, books, toys to.

DAILY MEALS
We have been serving 200+ daily meals to people in need since 2017. We work with Kifissia and Tavros Municipalities. For babies and children, we serve formula milk and baby food, and provide equipment and toys. We collect supplies from the Presidential Guard Mess, the Police Headquarters of Athens Mess, the Airforce Training Academy, and from restaurants and catering groups across Athens. Supermarket chains, restaurants, bakeries, and catering groups contribute to this effort, by providing free food supplies daily.

SOCIAL PHARMACY
We have been providing necessary medical supplies to 100+ people per month since 2017. We operate the social pharmacies together with six municipalities in Attica, namely Elefsina, Moshato, Tavros, Markopoulo, Vrilissia, and Kifissia. The people we serve are in dire need of their medication since they are not eligible for the national health insurance system but lack the means to access necessary medication.

LIAISON OFFICE
We operated the liaison office in partnership with municipalities to provide support services to people in need. The liaison office referred 500+ cases per month to social services from 2013 to 2017. Such service model included support for access to social benefits, and support for livelihoods. TIME BANK
The time bank was a pilot initiative that we operated between 2013-2017. It promoted the social in-kind exchange between people to enable volunteerism to flourish. We achieved 100+ exchanges per quarter. Parallel actions included awareness raising on volunteerism, exchange bazars, and cultural events.
We believe that culture forms societal norms of acceptance and coexistence. Through culture we can link weaknesses of our past with challenges of our future. It is a means to communicate strong messages through visual means and narrative.
DIGITAL MUSEUM AND REPOSITORY OF KASTELLORIZO